ACTIVITIES
School
Initiatives to promote health at school

The ISS collaborates with schools on different grounds with the aim of contributing to education on correct lifestyles among students and of including health promotion in school programs.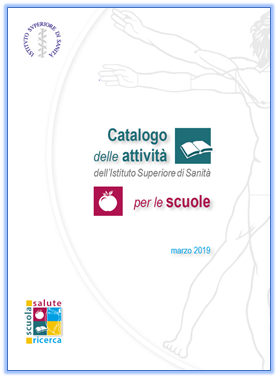 The Catalogue of ISS activities for schools, published in 2019, provides an overview of these activities. It is in Italian and includes 42 projects in specific areas (Life styles, Infectious and non-infectiousdiseases, Profession researcher, Donation, Environment and health) and 8 multidisciplinary projects.
https://www.iss.it/documents/20126/45616/catalogo_DEFINITIVO_per_web.pdf/94627e3b-ba27-5f8b-ff13-cd88d2147ee8?t=1581096845750
The series of publications Dispense per la Scuola (School training material) contain useful suggestions for teachers to develop educational health related activities at school on specific topics of interest for young people. It is in Italian, with English abstracts. The complete list of documents is available at https://www.iss.it/it/la-scuola-e-noi
The ISS activity for students' orientation (formerly School work alternation, according the Italian Law 107/2015) are available at https://scuolaericerca.iss.it/ (the website is in Italian).