ATTIVITÀ
Scuola
ISS for the world of schools
This section contains a proposal of activities of interest to teachers and students and shows the significant commitment of the Istituto Superiore di Sanità (ISS, the National Institute of Health in Italy) in this area and its potential health promotion at school.
In March 2019, o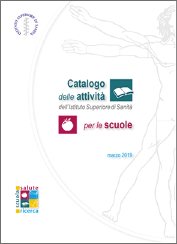 ver 50 projects, both of a multidisciplinary nature and relating to specific area, were registered and reported in the "Catalogue of the activities of the Istituto Superiore di Sanità for schools (March 2019)". This is a first survey of activities for schools, most of them are still valid and replicable.
Other activities concern scientific dissemination initiatives, such as the Researchers' Night.